What started as a gift to Livingston Manor has grown into a tradition.
About a dozen years ago, Phil Villone, owner of Rolling V Transportation, gave a Soap Box Derby Kit to each school his company worked with.
Soap Box Derby has been around since 1934, when a group of friends in Ohio constructed racing cars from lumber scraps. The cars are unpowered and rely on gravity to move. The World Competition draws more than 500 entrants, ages 7 to 21, from 43 states and three countries and is held each July at Derby Downs in Akron, Ohio.
Although Livingston Manor's entry into the Soap Box Derby world is relatively new, it certainly has been successful.
For the 12th year, the Technology Club at the school entered the Local Soap Box Derby Race in Liberty and for the 11th time earned at least one spot in the world competition. The club is open to students in fifth through 12th grades. There are about 10 students who make most, if not all of the meetings, another eight or so who attend regularly and a few who drop in and help when they can.
This year, 13-year-old Shane Graham will be representing Livingston Manor in Ohio in the Stock Division. To send him a good luck message, visit aasbd.soapboxderby.org. He is car No. 322.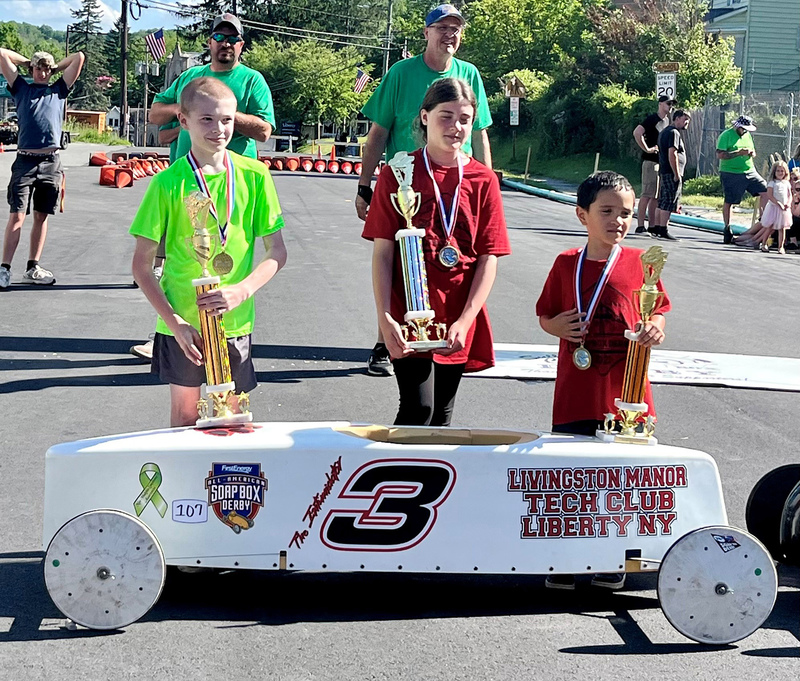 This was his first year taking part in the derby, which took place June 4. Asked why he joined, the seventh grader said, "I thought it was going to be fun, and I wanted to learn something new."
The students who take part certainly can learn — physics, geometry, math, construction and more, said technology teacher and club adviser Dave Hubert.
Hubert said he got involved with Soap Box Derby because in 2010, after the kit donation, the physics teacher didn't want to take on the project, so it fell to him.
And he has certainly embraced it.
This year, the club sent nine cars to the event, which drew about 40 entrants, but has sent as many as a dozen, with several times more than one car winning and moving on to Akron.
There are three divisions: Stock, super stock and master. Each car starts as a kit, but there are different materials used for the shell, or body, of the car, and different regulations on what can be done to the vehicle at each level. Total weight, including driver, also increases at each level. The maximum weight at the stock level is 200 pounds, 240 at super stock and 255 at master.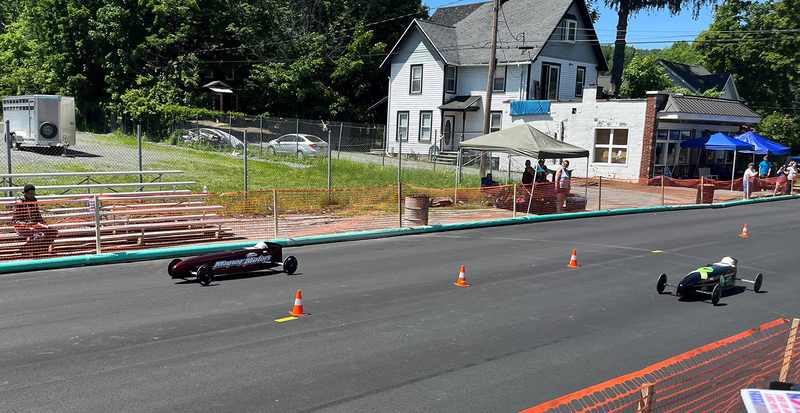 The bodies at each level are strictly regulated, but how the axles and wheels are mounted and where the weight is placed can make all the difference.
"We try to take away anything that will slow you down," Hubert said.
Axles are all mounted in the same location on the floorboard for every division, and how they are attached is the same. Participants can adjust the axles by squaring them to the board and each other and bend the spindles to make them as accurate as possible. Measurements will be made to the thousandth of an inch.
"All of it is physics and measurements," Hubert said.
Because it is a gravity-based race, competitors will go to the maximum weight, but the students will test where to place the extra weight to make the most of it.
Although wheels are also provided, that is one thing the club loses control over on race day. Wheels are changed between each run, in what is known as a progressive wheel swap, so if a team gets wheels that may not have been cared for as well as others, it could slow it down.
The club begins working on the cars in January. They build after school on Wednesdays and meet on Saturdays. They generally begin testing their cars in early spring to prepare for the local race the first weekend in June. To qualify for the July race in Ohio, a car must finish first in its local division or qualify through rally racing. In rally racing, racers travel from city to city collecting points by their standing in each race over the course of a weekend. There are typically five per weekend. If racers collect enough points, they can qualify for the world competition.
Students spend hundreds of hours preparing their cars, Hubert said. But cars are reused year to year.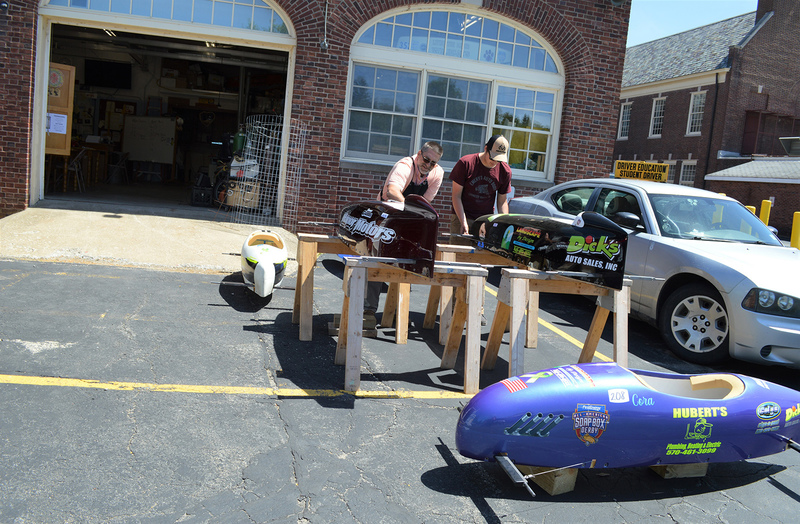 The oldest car in Livingston Manor's fleet was built in 2014. The car Shane is taking to the championship was built in 2015. But the July race will be the last time it can compete for the world title. All cars that make it to Akron are disqualified from competing again. A hole is drilled through the base, indicating that it has been used in the World Championships.
It isn't just the school that helps the club out, many of the cars are sponsored by local businesses, and like other race cars, carry the logos of their sponsors.
Hubert, Shane and Shane's mother will travel to Akron, with the soap box derby car, on July 17, so the car can be inspected. Any other members of the club who wish to travel will spend Thursday through Sunday to help prepare and watch the races.
"I think it's going to be fun," Shane said of the Ohio trip.
Although it is a fun experience for the students involved, there are several lessons learned.
"I think it is great for kids to turn wrenches," Hubert said. "They learn different tools and hardware. They have to learn different torque specs, and they learn through trial and error."