Softball is a passion for Livingston Manor Central School senior Mackenzie Carlson, and it is a passion she will be able to continue next year as a SUNY Oswego Laker.
"Softball has been my passion for as long as I can remember. I found the sport I loved at such a young age, and I am thankful for that," she said. "It has allowed me to travel to many new places and allowed me to meet so many wonderful people."
Carlson has signed a letter of intent to play for the Division III team. The signing was celebrated at a ceremony at Livingston Manor on Tuesday, May 30.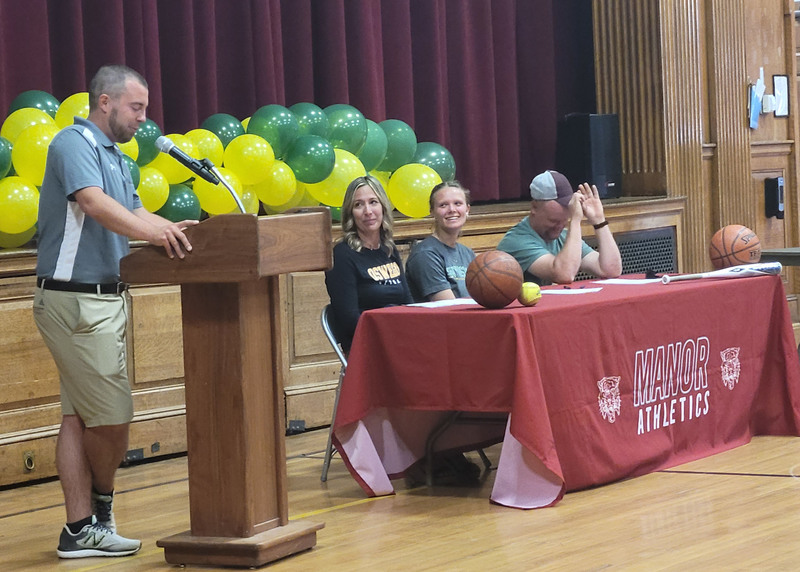 While SUNY Oswego wasn't her first thought to continue her softball career, a visit to the campus told her it was the right place for her, she said.
"I was offered a substantial amount of scholarship money to go there so I figured, 'why not take a look?'," Carlson said. "I absolutely loved the campus and the team environment. I felt like God was putting everything into place for me."
Carlson has been a starter on the Livingston Manor varsity softball team for four seasons, playing the positions of pitcher, infield and utility. Last season, Carlson helped lead the team to the Section 9 Championship game. This year, she led the team to seven wins, batting .600, along with four home runs and 20 runs batted in. She also struck out 125 batters while on the mound to help lead the defense.
"It is easy to say that she was the driving force behind our very young varsity team," softball coach Nicholas Wyss said during an emotional speech at the celebration.
"Her work ethic, leadership and ability to positively influence her teammates is something very special that stands out about Mackenzie. Whether it was weekend practice, 6 a.m. practice, during study halls or after school, she never missed a beat," he said. "If I said 'Let's work,' she said 'Let's go.' Mackenzie embodied all of the characteristics that a coach hopes to have within an athlete."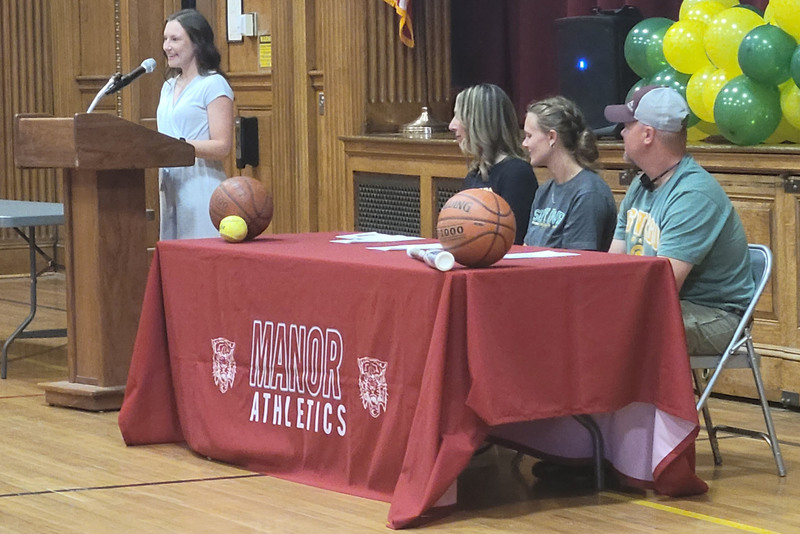 Carlson has also been a standout on the basketball team. She has played for five years — four on the varsity level. The team earned back-to-back OCIAA Class D Girls Basketball Championships in 2021 and 2022. This year, she led the team in all three statistical categories, averaging 11.2 points per game, 5.6 rebounds per game, and 3.2 steals per game.
"She is the type of leader you want on your team, in your locker room or dugout, and the player you know you can count on to either get the job done herself or bring out the best in those around her," basketball coach Maggi Fitzpatrick said. "She is a true winner, meaning she is not afraid to fail and will always get back up stronger, more focused, and ready to demolish any obstacle in her path."
Carlson has also been an active member of the community, volunteering her time with the LMCS youth basketball program and the Cal Ripken Baseball/Softball programs, helping younger athletes, as well a being a member of the LMCS Interact Club and a volunteer with the Beaverkill Valley Fire Department and the Livingston Manor Fire Department.
She plans to continue that community service as she looks to major in criminal justice at SUNY Oswego.
"I have a passion for law enforcement and have always wanted to be a police officer so I can give back to my community," she said.
"She really is the epitome of what we are looking for in an incoming student-athlete here at SUNY Oswego," said Carlson's future coach, Cristen Nicols. "She is dedicated to her craft and understands the importance of what she accomplishes in the classroom will inevitably show on the diamond. We are so very excited to have her on campus!"
"Mackenzie is a great role model and leader for our younger Wildcats," LMCS Assistant Principal and Athletic Director David Eggleton said. "We thank her for her service to our community and school district."